There's no denying that computers and ever-changing technology have altered the landscape across industries – bespoke jewellery design is no exception. Combining the perfect mix of traditional crafting techniques and high-tech advancements can bring the most intricate designs to life. Utilising Computer Aided Design (CAD) and with the production of photographic realistic 2 dimensional images of a model / design we can give complete peace of mind to our customers prior to production.  At Blair and Sheridan we can offer in-house 3d CAD jewellery design where a particular item requires it.


A combination of 3D printed and milled wax model ready for precious metal casting
Where does CAD come into the existing design process?:
Following a face to face design consultation (either in our showroom or remotely if required) with you to discuss ideas, agree budget, diamond/stone size (if applicable):
One of our designers creates a sketch through your idea/picture for your consideration.
Next stop, our talented CAD designer will create photo realistic renders or a 360° video for you to approve.
If you are happy at this stage then work can begin on your finished design.
The CAD model can be used to produce a 3D printed model in resin or a milled model in wax. This gives you an opportunity to see and try on the actual piece in a 3D form.  All of these processes take place at our premises – therefore giving us consistency in quality and timescales.


From line drawing through the process of CAD drawing, view the 3D video simulation here 
From here, the making of your design will progress into manufacture, again in-house by our experienced goldsmiths and stone setters.
Being able to design, CAD and craft all bespoke jewellery from our premises is what makes Blair and Sheridan so unique.  We don't rely on the logistics or timings of external suppliers giving us complete autonomy.  The result is a truly bespoke and personalised service.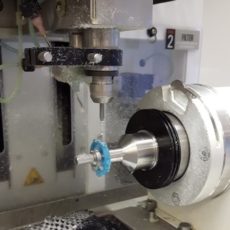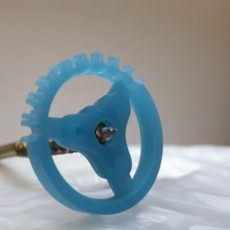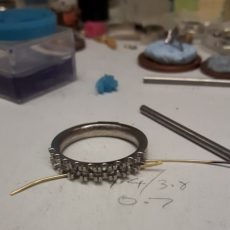 The complete CAD journey from drawing to milled wax model, piercing out
process and final cast item ready for stone setting
The gift of foresight
With the use of CAD we can extract the element of doubt offering a crystal clear representation therefore relying less on mental visualisation.  Giving the opportunity to tweak the metal /stone / size etc. and see these alterations on screen you will have much better peace of mind prior to creation.  From a production side, CAD generates definitive sizes and weights required for materials.  This allows us to produce completely accurate quotes and minimise wastage in the production – a saving which we can pass on to the client.  Even seemingly simple pieces of jewellery – perhaps an unusual size/shape/breadth – can be quoted precisely using a CAD drawing.


The final stages of CAD drawing are photo- realistic, final design (right), view the CAD video here
To summarise, the key benefits in Computer Aided Design in jewellery making means:
Seamless process in the designing and making of bespoke jewellery designs
More economical use of time and materials – less wastage and excess materials
Working with you remotely is even easier as the drawings/video can be emailed to you if you cannot make it to the shop
With advancements in technology and communication it is possible to go through the entire design process remotely – you can make a virtual appointment with our design team here.