When you come to Blair and Sheridan you can expect an exquisitely creative piece of jewellery that will be admired and adored forever.  Working alongside you through the design journey furthermore guiding you every step of the way.   From precious metal choice and diamond/gemstone selection to personal touches and aftercare advice;  Blair and Sheridan are revered in bespoke fine jewellery.  Once your design is agreed and made,  the very final –  yet vital  –  stage is for your jewellery or ring to be hallmarked.  While often overlooked or simply taken for granted,  read on to discover the history and meaning behind hallmarking…
What is hallmarking and why is it so important?
Hallmarking is more than just a dying art or decorative addition to your unique,  bespoke ring or jewellery.  The small inscription holds a rich history and story all of its own.  When you commission a ring or piece of jewellery with Blair and Sheridan,  the final part of the process is hallmarking.  This is an independent verification of all precious metal jewellery which takes place at the Edinburgh Assay office  –  the last remaining Scottish Assay office.  There are four primary precious metals:  gold,  silver,  platinum and palladium.  All precious metal jewellery must be hallmarked before it can be sold to the consumer.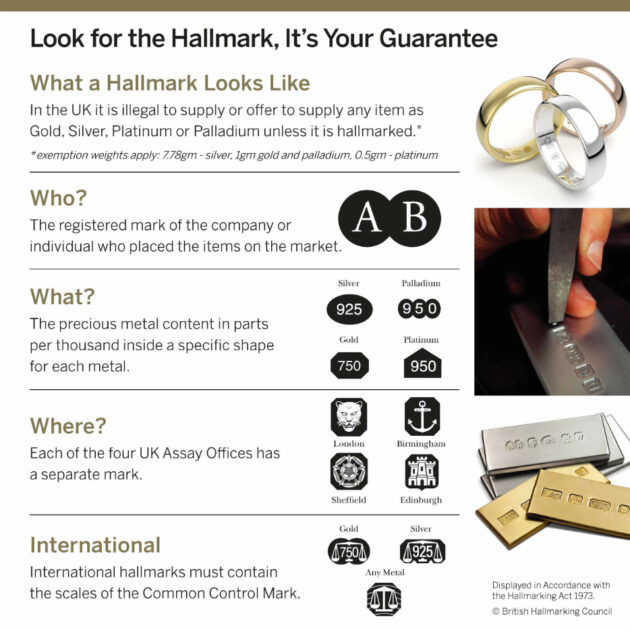 What is an Assay office?
An Assay office is an institution set up to test and verify the purity of precious metals.  The term 'assay' simply means 'to test'.  Goldsmiths' Hall in London was the first official premises to identify and stamp precious metals for purity.  Founded around 1300,  Goldsmiths Hall is the origin of "hallmarking" and became the home of the first Assay Office in 1478.  Since then,  there have been ten Assay Offices in the UK.  Over the years a few have closed and there are now four Assay Offices operating in the UK today:  Edinburgh,  Sheffield,  London and Birmingham.
In the case of a bespoke jeweller,  the maker must register with Assay.  Upon registration they are allocated a unique sponsors mark which is turned into a punch (and laser marking software version).  A punch is the metal tool which is used to imprint the metal with your unique mark.  In the case of Blair and Sheridan our unique mark is the letters 'BS' in an outlined rectangle.
Assay Offices test the purity of precious metals,  to protect consumers from buying fake items.  If an item conforms with the legal requirements for purity,  the Assay Office subsequently marks it with the appropriate hallmark(s).  Each hallmark is applied by hand using specially made tools.
The hallmark on your completed ring or item of jewellery comprises of a minimum of 4 components which denote:
Who – A stamp displaying letters unique to a maker or company that brings the piece to market. Blair and Sheridan's unique makers mark is 'BS'.
What – A number stamp indicates the metal purity of the metal used – where the item of jewellery is mixed metals then more than one of these stamps can appear.
Where – The UK has 4 Assay offices each with their own unique stamp – Edinburgh, Sheffield, London and Birmingham
When – a single letter denotes the year of hallmarking
Additional stamps may be included such as specially released commemorative marks to note an historical date or event… the hallmarks unravel a very unique story about your bespoke jewellery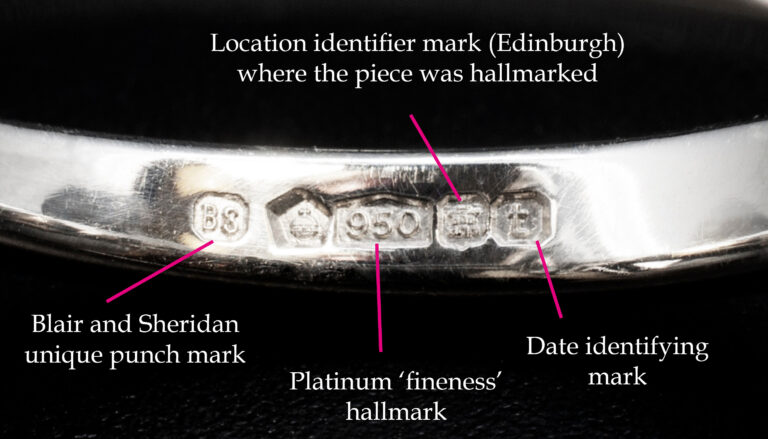 The exceptions to hallmarking are gold/palladium under a weight of 1gm,  silver under a weight of 7.78gm and platinum under a weight of 0.5gm.
Commemorative special edition marks
In addition to mandatory hallmark stamps,  Assay offices have introduced some unique commemorative marks in the last century.  The first of these was to note the Silver Jubilee of King George V and Queen Mary in 1935.  Subsequent commemorative marks were introduced for:
the Coronation of Her Majesty Queen Elizabeth II in 1953
the Silver Jubilee in 1977
the Millennium in 2000
the Golden Jubilee in 2002
the Diamond Jubilee in 2012
the Platinum Jubilee in 2022
The Assay office currently offers a commemorative hallmark to denote King Charles III Coronation.  This may be used alongside or in place of the date letter mark and is available on request.  Watch the unique punch being made and its application here:
If you have heirloom or antique jewellery or rings that pre-date hallmarking legislation they may be un-marked.  There are ways to determine the material in older pieces so it can be re-purposed into a new bespoke design.  Your custom made jewellery from Blair and Sheridan tells a story all of its own through the tiny markings that you probably hadn't even noticed were there!