In Matching Your Engagement And Wedding Rings Together: Part 1 we talked about how to make sure your ring pairing is a flush fit.
In Part 2 we will talk about how the shape, style and stone of your rings can be matched to achieve a beautiful pairing.
Choosing Complimentary Ring Metals
It is best practice to avoid pairing different metal alloys if two rings are to sit alongside one another. This is due to the fact that they have different levels of hardness and can be abrasive to one another. A platinum engagement ring should have a platinum wedding ring to sit alongside it.
Conversely if someone has a platinum engagement ring and wears an 18kt white gold wedding ring alongside, the platinum metal, being denser and harder will wear down the 18kt white gold wedding ring significantly over time.
The claw that holds your stone is also an important feature to consider. It is best practice not to scrimp on metal. It is always a delicate balance to set a stone securely but to retain the fineness if the design desires such a look.
We make sure the stones are very secure before you take them out into the world.
Selecting The Shape of Your Stone
The next consideration for your rings is choosing a cut that is compatible with both the engagement and wedding ring metals.
Of course everyone has their own preference, with round and square (or "princess cut") being most popular.
Top tips to keep in mind are:
Softer shapes often compliment curved metal shapes. For example, a round diamond in a rub-over setting look stunning together
Similar shapes work well together
What To Avoid
Opposing shapes rarely look pleasing to the eye. A round diamond engagement ring would rarely go well with a square diamond cut row wedding ring.
But there are always exceptions to the rule – so if you have something a bit unusual in mind we'd be happy to talk it over.
How To Choose Compatible Stone Colours
As well as making sure the stone matches your chosen metal, you will also want to ensure that the stones match (if you have chosen to have more than one).
Most commonly, the engagement ring will feature the main stone. Simpler diamonds can be added to the wedding ring for a complimentary effect.
Sapphires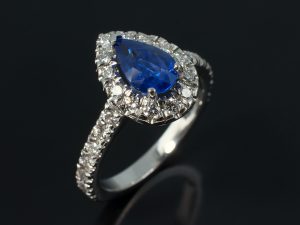 Due to their blue colour, sapphires match well with yellow and white. Our Pear Cut Sapphire 1.31ct in a Platinum Diamond Claw Set Halo Design is an ideal example.
Green emeralds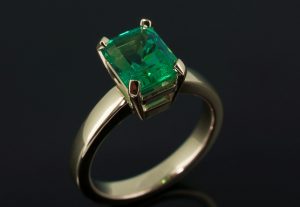 Green emeralds are perfect with yellow gold like this Emerald 1.98ct Colombian Origin in a 4 Claw 18kt Yellow Gold Solitaire Design.
Most stones + white diamonds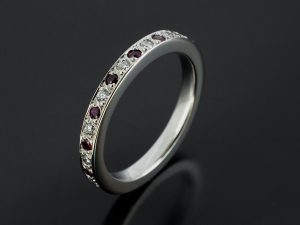 Regardless of the stone you select for your engagement ring, small white diamonds offset most stones beautifully. This wedding/eternity ring set with diamonds and rubies demonstrates the effect well.
In general, we recommend sapphires, rubies and diamonds when you are seeking longevity.
All three are very strong and durable, meaning they will last the lifetime you intend them for.
As many of us know rings often outlive us! So, if you have an inherited ring with sentimental value we can look at integrating this family heirloom into your pairing.
We hope Part 2 has given you a starter guide of what to look for when buying wedding and engagement rings. Please contact us or pop into the shop if have an idea you wish to discuss further.